Creature Comforts Brewing is proud of its high standards. You can see it in their new 40,000-square-foot state-of-the-art brewing operation, you can taste it in the quality of their craft brews, and you can witness it in the daily work ethic of their employ­ees and ownership.
Please activate JavaScript to play this video.
Quality, perfection, and efficiency – with those ingredients, Creature Comforts has made an indelible mark on the Georgia brewing scene since they first opened their doors at the old Snow Tire location on Hancock Avenue in downtown Athens four years ago. The site contains a four-vessel, 30-barrel brewhouse which could no longer keep up with their increasing demand. "It is a very manual system," says Adam Beauchamp, co-founder and brewmaster. "We wanted a bigger and better solution able to produce higher volumes." When they started their expansion plans in early 2017 for a second Athens location on Oneta Street, they were looking for state-of-the-art equipment for brewing, filling, and packaging that would fit their high quality standards. The system had to produce more efficiently, in higher volumes, and be a fully automated processing system.
After conducting extensive research and visiting several facilities with equipment similar to what they had envi­sioned, Creature Comforts chose a four-vessel Steinecker CombiCube B brewhouse from Krones. Now, they are able to brew 85 barrels of beer per brew, which more than doubled their previous output immediately. "The quality of the brewhouse was evident and the price was better than the competition compared to other fully automated systems," says Beauchamp.
I think Krones really understands craft brewers better than a lot of companies.
Adam Beauchamp
Some of the things Adam Beauchamp likes about the Krones Botec process control system – besides its meeting his quality expectations – are its ease of use, the myriad recipes available for the batch process, and how easy it is to train people on it: "You have ultimate control over the process – every single detail," he says. "Nearly every batch is consistent. For craft brewers with hundreds of brewing options, this is very key to a quality brew. I think Krones really understands craft brewers better than a lot of companies."
Creature Comforts demands quality not only for its brewhouse but also for its can filling operation. That's why the craft brewery chose the Krones Craftmate filler, which can fill 250 12-ounce cans per minute. Daniel Sossa, packaging manager for Creature Comforts, had worked on Krones equipment before at another brewery and said he appreciates the technology because of its precise fills and ease of maintenance: "I like that the filler is infinitely scalable. It's a perfect option for a counter pressure filler that isn't mechanical."
Filling 'Up'
Creature Comforts' new facility is in a renovated textile mill that is over 100 years old, which presented some retrofitting challenges when the time came for installation and integration. For example, the cellar needed to be installed in the basement, but the can filler was located on the second floor. So the beer needs to be pumped upwards. An extensive conveyor system was also needed to connect the machines in their various locations in the basement and second floor. Krones provided the tech­nological support to integrate the line controls and get the job done quickly and effectively, tapping into the expertise of its subsidiary, Process and Data Automation (PDA), to tie it all together. "Krones brought in the full force," says Beauchamp. "The project was on a time crunch with the renovation and Krones met the challenge. They were great at getting the service, technology support, and training to get us to close the time gap."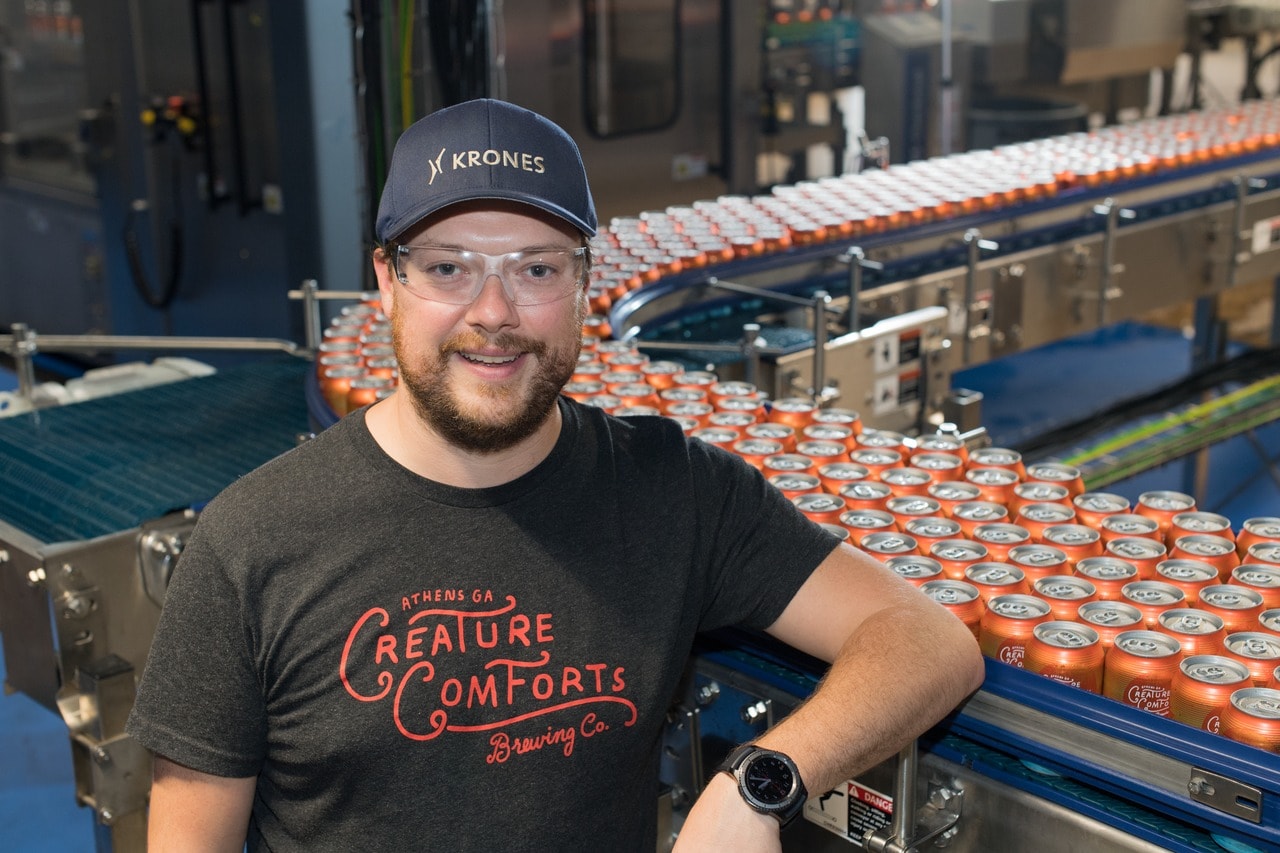 How Low Can the TPO Go?
Beauchamp says they witnessed the benefits of their new Krones equipment right from the start. What impressed him most was that the Craftmate can filler reduced the Total Packaged Oxygen (TPO) by 50 percent over their original operation. A low TPO is associated with better beer preservation and, in turn, longer shelf life. "The customer only cares about the quality of the 6-pack of beer they just bought," says Sossa. "And running our beer through a filler like Krones', I know it will be quality."
Wouldn't that be something for you too?
---
Selected machines and solutions