It's more than a century since a brewery of this size has been built in Belgium.
Xavier Van Honsebrouck, a family brewer of the fifth generation, has now ventured this bold step. In the small Flemish town of Izegem, the new Bierkasteel Van Honsebrouck brewery has been erected on a greenfield site, with a capacity of 250,000 hectolitres. And it's mightily impressive: the architecture is reminiscent of a castle, the cold block – with different fermentation processes and batch sizes – unites four breweries in one, so to speak, and the facilities for visitors offer a total-immersion beer experience. For Xavier Van Honsebrouck, the brewery is a dream come true.
Not every brewer would dare to take the putative risk of relocating his brewery's entire production operation. The family-owned brewery in the middle of Ingelmunster had come up against the limits of its capacity at 100,000 hectolitres, and there was no longer any space available to expand in the town centre. So, if he wanted to grow, he had to build a new facility. And this is what Van Honsebrouck did, with a well-thought-out concept.
Please activate JavaScript to play this video.
Structured master plan
It was at the drinktec back in 2013 that Xavier Van Honsebrouck got in touch with Krones: "We already had a good relationship beforehand. And then we agreed a special kind of partnership: Krones was able to better comprehend the world of specialty and craft brewers, and we got a highly flexible technical solution from a single source," he explains. Krones received the turnkey order – and supplied the brewhouse, handled the coordination and automation of the cold block, installed six additional fermentation tanks, was responsible for relocating the returnable-glass bottling line and added some new machines to it.
We have to be innovative, otherwise we'll start to be seen as old-fashioned.
Xavier Van Honsebrouck
A clearly structured bottling operation
The bottling line, rated at 20,000 bottles per hour, is now accommodated in the new building on an area of 2,000 square metres – three times the space provided in the old brewery. Krones organised the entire relocation job: existing machines, like the Sensometic VP-VI counter-pressure filler, installed only in 2008, the Solomatic labeller and the Linatronic empty-bottle inspector, were installed at the new site and linked up with new conveyors. In addition, Van Honsebrouck ordered a Lavatec E2 bottle washer, a Modulpal 2A palletiser, and a corking machine. All the requisite adhesives are supplied by KIC Krones.
With the new construction job, the planning team had an opportunity, of course, to create clear structures – and they took full advantage. "The production flow is now the best configuration imaginable. Every brewer's dream," is Xavier Van Honsebrouck's firm conviction. And Project Manager Alex De Smet enthusiastically concurs: "The entire brewery is like a huge river."
Ultra-flexible production system
When Alex De Smet says: "We've actually built four breweries in one here," then he means not only the three different fermentation processes, but also the test and pilot brewery as the fourth component. This is because the Steinecker brewhouse additionally enables relatively small batches of just 50 hectolitres to be brewed – so the team can try out new varieties of beer and different flavours. The 50-hectolitre size is retained all the way through to the bottling line. For this purpose, Van Honsebrouck has installed some fermentation tanks with 50 hectolitres capacity for one brew at a time.
We've actually built four breweries in one here.
Alex De Smet
"I wanted a highly flexible production system, by which I mean smaller brew sizes but in return more brews a day. Krones was able to provide this for us. I'm convinced that a trend of this kind towards smaller units will soon be taking root in the major beer-producing nations as well.", explains Xavier Van Honsebrouck.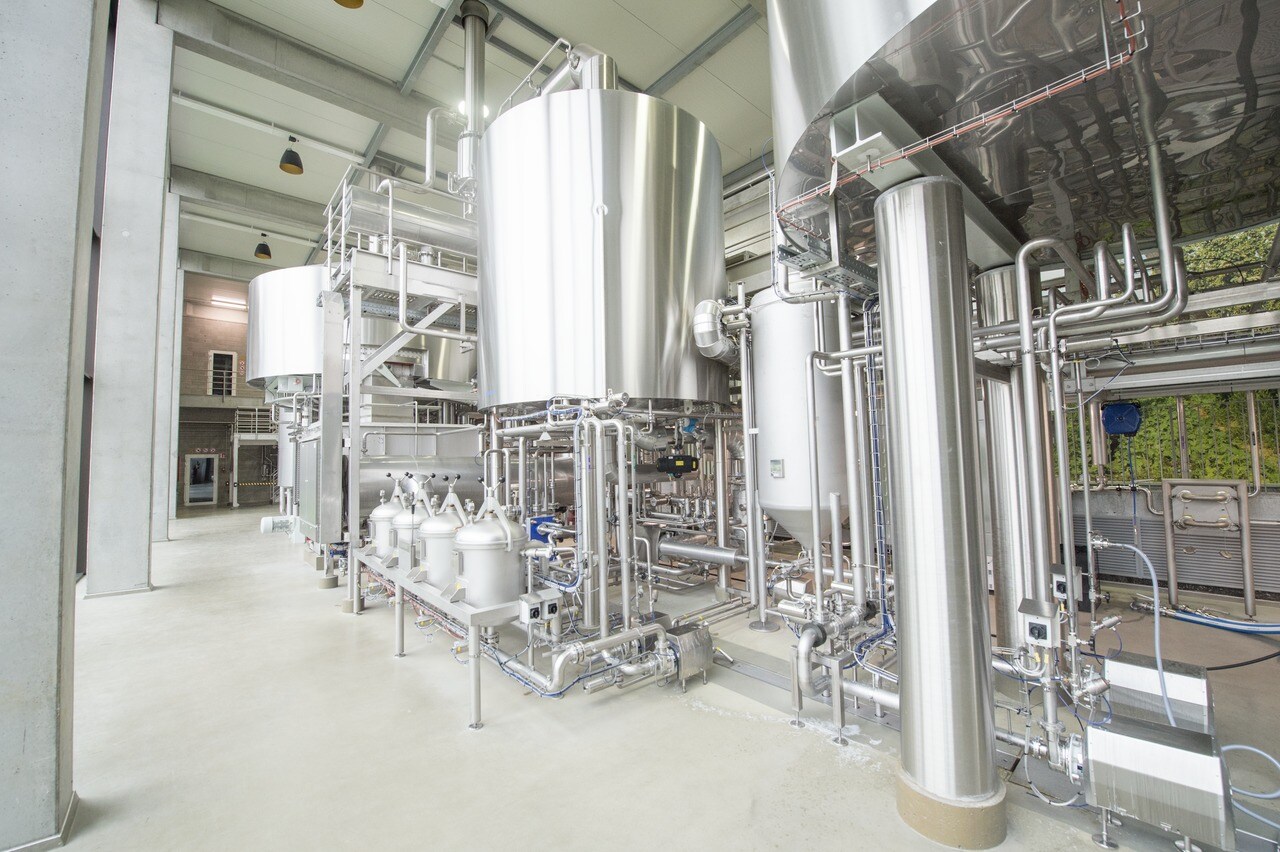 "A unique experience"
Brewmaster Hans Mehuys explains the new features compared to the old brewhouse:
"Instead of a mash filter, the new brewhouse now operates with a Pegasus C lauter tun: this was primarily an emotional decision. A mash filter is more of 'a machine'. When you have a lauter tun, you feel closer to the essentials of the craft. What's more, it means it's easier for us to run smaller batches.
Instead of a centrifuge, we're now using a whirlpool.
The brewing line also incorporates a classical mash kettle and a wort copper featuring a Stromboli external boiler.
The vapour condenser with energy storage tank installed makes a crucial contribution towards halving the gas consumption per hectolitre referenced to the brewery as a whole.
In the old brewhouse, a daily production output of 600 hectolitres was achieved with two to three brews a day. Now it's ten brews a day of 115 hectolitres, making 1,150 hectolitres a day."
He goes on to explain: "The brewery's complexity was a challenge and a unique experience both for us and for Krones. The project made each of us stronger, because there were competent people on both sides. We all knew what we wanted to do, and what the options were. We challenged Krones: they said, they can do it – and indeed they could. So of course we're satisfied."
Wouldn't that be something for you too?
---
Selected machines and solutions